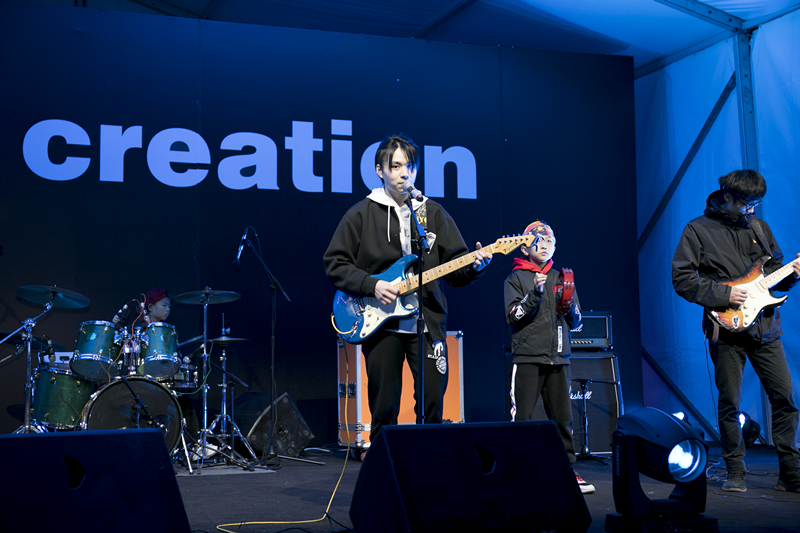 2019年1月,新年刚过,16岁的Jeffrey作为FLIS乐队主唱,与成员们一起登上了茉莉音乐节的舞台。那一天寒风瑟瑟,但所有人都很兴奋:对FLIS乐队来说,这是第一次走出校园,登上这样广阔的舞台;对观众而言,欣赏年龄跨度如此之大的一支校园乐队在台上热唱英文摇滚金曲,纷飞的青春热忱似乎也点燃了萧索的冬日。
In January 2019, just after the New Year, the 16 year old secondary student Jeffrey performed at the stage of the Moli Music Festival as the lead singer of the FLIS Band. It was a chilly day, but everyone was so excited because it was the first time the FLIS Band got a chance to come to such a grand stage outside of the school. As for the audience, watching a school band with such a wide range of ages sing these classic English rock songs on the stage, with the passion they exhibited, seemed to ignite the bleak winter.

不知那一天,在台上放声歌唱的Jeffrey是否有想过,这对他而言注定是不平凡的一年?
Did Jeffrey, who was singing on stage that day, know that this was destined to be an extraordinary year for him?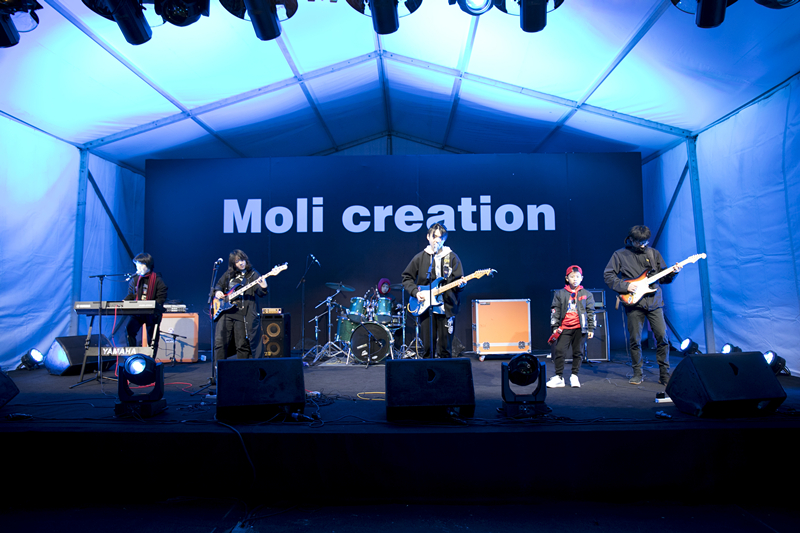 三年前,Jeffrey从公立校转入福州西湖国际学校十年级,算算恰好是开启高中生涯的第一年。初来乍到,外教们对这个男孩的印象是英语水平尚需强化,不够流利,只能听懂基础的对话,为人也腼腆羞涩。如今,通过三年的英语强化学习与纯英文浸润式环境的熏陶,Jeffrey已适应了全外教教学,在世界历史,美国历史,英美文学课这些需要大量记忆和理解的科目上也表现得游刃有余。前些日子,他在万圣节限定舞台上演唱了第一首原创音乐作品,就以英文进行填词。
Jeffrey transferred from public school to 10th grade at Fuzhou Lakeside International School three years ago. Foreign teachers recall him being a shy boy whose English level needed to be strengthened, who could only understand basic dialogues when he first came to FLIS. Now, after three years of intensive English language learning and immersion in a pure English environment, Jeffrey has adapted to teaching entirely by foreign teachers, and has become adept at learning all subjects taught in English such as world history, American history, and British and American literature, which all require a lot of English vocabulary and understanding of concepts. And just a few days ago, he sang his first original song on stage for Halloween, which he wrote the lyrics for in English.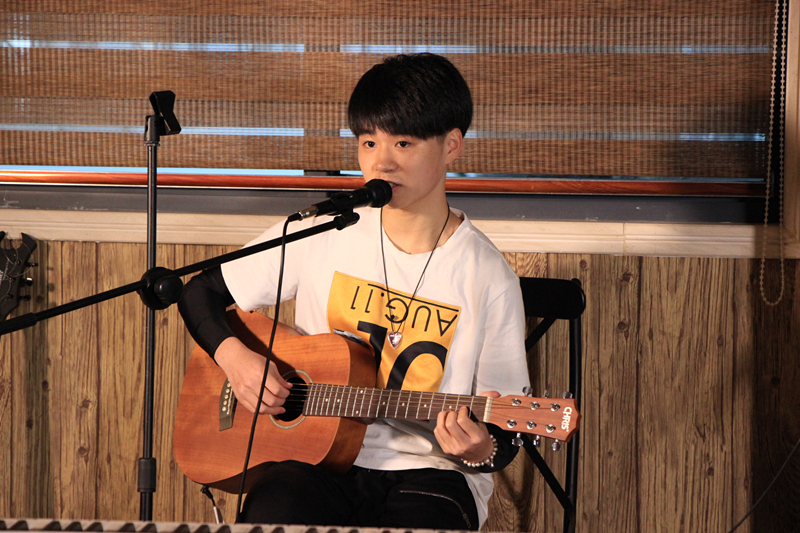 选择福州西湖国际学校,皆因此处自由包容的氛围,与丰富多样、鼓励学生在学术与各项兴趣领域全面发展的课程吸引了他。每个人可以发表不同的看法,不必人云亦云。同样,每个人也可以追逐自己的梦想,为自己的梦想努力奋斗,而不必在他人的逼迫下闷头苦学。三年来,Jeffrey认真学习,成绩平均绩点达3.77(满分4分),也勇于尝试,ASDAN模拟商赛,戏剧课,陶艺课,放学后的音乐教室总能看见他的身影……对音乐的热爱,更促使他组建了FLIS历史上第一支校园乐队,成员间最大年龄差达7岁。FLIS鼓励学子进行多样化尝试,因此,圣诞晚会、才艺秀、万圣节,我们一次又一次目睹了FLIS乐队精彩的表演,并最终见证了茉莉音乐节上的青春奇迹。
He chose FLIS because of its free and inclusive atmosphere, with rich and diverse courses that encourage students to develop comprehensively in academics and in various fields of interest. Everyone here can express different opinions, and it is not necessary to believe and follow what others say. In the same way, everyone can pursue their own dreams and work hard for their dreams with all the support that they need. During the past three years, Jeffrey has studied hard and achieved a GPA of 3.77 (out of 4). He has not afraid to try new things; he engaged in lots of activities such as the ASDAN Business Simulation, drama class, pottery class, etc. His love for music led him to form the first school band in FLIS history, with an age difference of 7 years between some of the students. FLIS encourages students to try many different things. Therefore, we have had a Christmas party, talent show, Halloween party, etc., and we have witnessed the FLIS Band's wonderful performances again and again, and just recently we witnessed the miracle of these youth in the Moli Music Festival.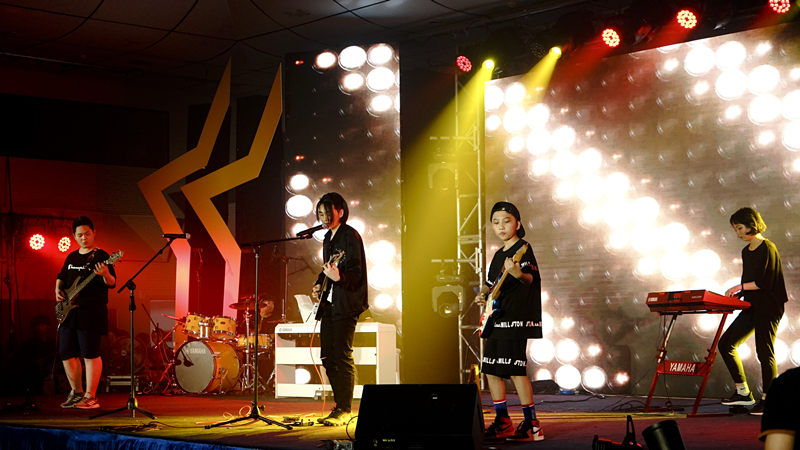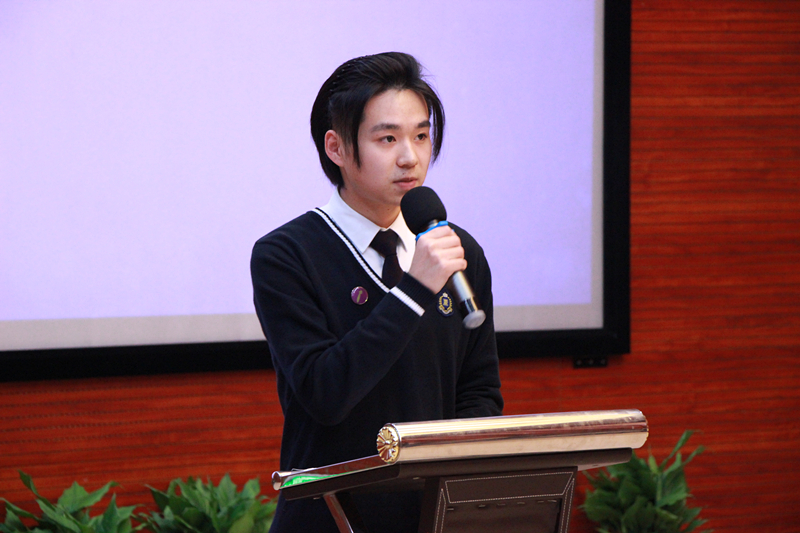 也就是在去年参加ASDAN商业挑战赛时,Jeffrey找到了未来的专业方向。ASDAN商赛以专业的模拟商战IT系统为基础,完全仿真还原市场和公司运营的真实环境与决策过程,参赛的学员需以团队力量争取最大利润决一胜负。他在参加商赛的过程中感受到了团结协作的力量,提升了公众演讲和商业英语运用能力,并决定将商科定为未来的专业方向。
It was during the ASDAN Business Simulation last year that Jeffrey found his future direction. The ASDAN Business Simulation was created in an effort to help the aspiring business leaders and entrepreneurs of tomorrow grasp a better logistical and strategic understanding of how to run a business. During the simulation students are actively involved in creating and deciding on every aspect of their business from their company culture to their production needs. The interactive aspect of the simulation is a great way for students to get involved in thinking about the practicalities of running a business. Jeffrey experienced the power of cooperation and improved his public speaking skills and business English proficiency through the competition. He then decided to take Business Studies as his future major.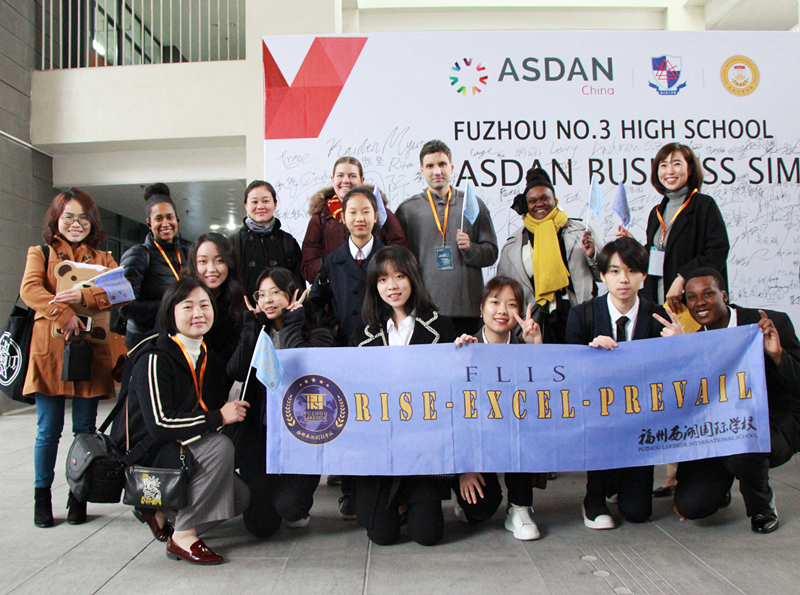 FLIS升学顾问为每一位学子提供一对一规划指导,我校巨大的升学资源优势为学生提供无数便利及全方位协助,确保向他们打开的机遇之门不限于中国,亦拓宽至全世界。在多次与升学顾问老师交谈、综合了个人的学术水平、升学意愿及未来方向后,Jeffrey与顾问老师一同对比了欧洲及澳洲多所高校,最终将目标锁定为英国曼彻斯特大学。这是一所位于英国第二繁华城市曼彻斯特、享有百年美誉的世界著名综合研究型大学,作为英国顶尖精英老牌名校,曼彻斯特大学在2020QS世界大学排名中跻身第二十七位,泰晤士高等教育世界大学排名则将其列为全英第八。迄今,曼大校友、教授和研究员中共有25位诺贝尔奖得主;其现任教职员中有4位诺贝尔奖得主,为全英之冠。值得一提的是,Jeffrey喜爱的绿洲乐队就来自曼彻斯特。
Each secondary student at FLIS is given a team of college counselors to review progress, goals, and college preparation to ensure the doors of opportunity extend well beyond China to the entire world. Staff work with students and parents every step of the way including transcript reviews, tutoring, college essay and application preparation, and character development. After talking with the counselor many times and considering his academic level, aspiration, and future direction, Jeffrey and the adviser compared a number of universities in Europe and Australia, and finally targeted The University of Manchester in the UK. It is a world-renowned comprehensive research university located in Manchester, the second most prosperous city in the UK, with a reputation that goes back hundreds of years. As one of the top elite old universities in the UK, the university was ranked 27th in the QS World University Rankings 2020, and 8th in the UK in the Times Higher Education World University Rankings. The University of Manchester has 25 Nobel laureates among its past and present students and staff, the fourth-highest number of any single university in the United Kingdom. Four Nobel laureates are currently among its staff – more than any other British university. It is also worth mentioning that one of Jeffrey's favorite bands, Oasis, was started in Manchester.


于是,年末喜讯传来:Jeffrey如愿收到曼彻斯特大学的offer!那一刻,整个中学部都为他感到高兴,他也早早规划好了接下来的行程。手握心仪大学offer后,他报名了寒假的马来西亚保护野生动物志愿者活动,打算感受一下不一样的世界。学业,乐队,社会实践,每个领域都完成得有声有色,Jeffrey在西湖国际学校的每一步,都走得踏实且坚定。
Finally, the good news came at the end of the year: Jeffrey received an acceptance letter from The University of Manchester! At that moment, the whole secondary department congratulated him and celebrated with him. And now he has already planned his next trip. With a university offer in hand, he signed up for a volunteer activity for wildlife protection in Malaysia during the winter vacation, so that he can experience a different part of the world. Academic work, band performance, and social practice have all been accomplished with great success. Jeffrey has walked steadily and firmly in every step of his study in FLIS.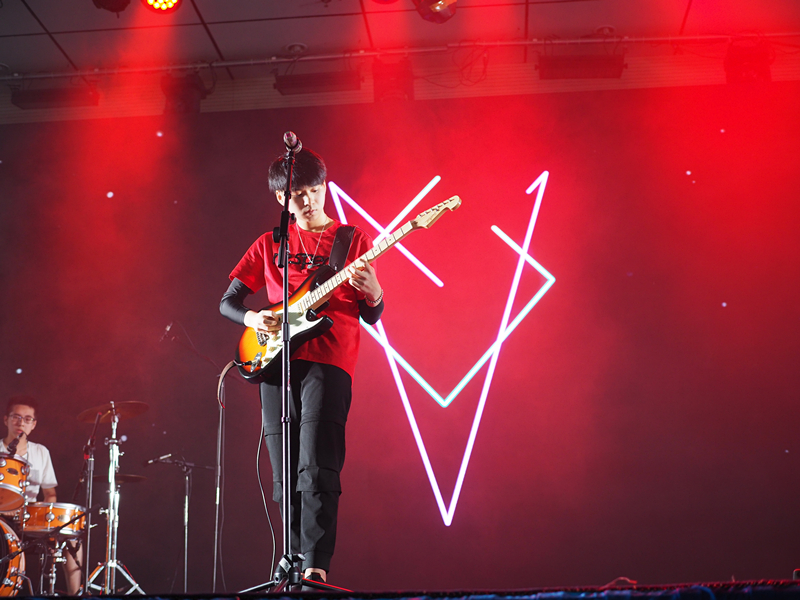 愿Jeffrey在大学依旧可以用一种从容的心态选择做自己喜欢的事情,保持讶异与好奇,不懈追求未知,在校园之外还有更广阔的世界在等着你!加油吧!
May our beloved student Jeffrey, and soon-to-be college student, continue to choose to do what he likes with a calm mind and stay curious and pursue new knowledge persistently! There is a much bigger world waiting for him outside of this campus! Congratulations to him!