School Bus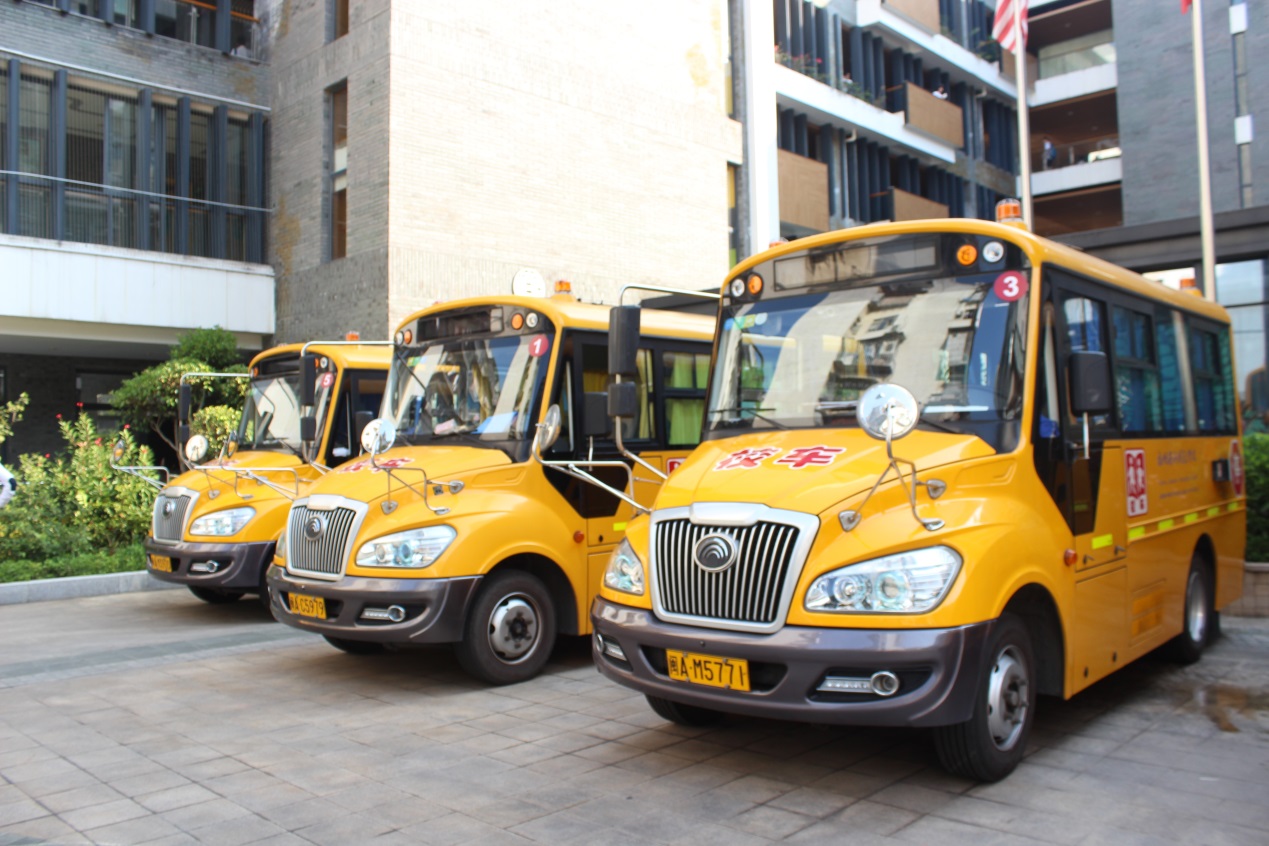 As the only formal international school in Fuzhou, FLIS has high school bus standards, emphasizing three key points: paying attention to bus safety rules, maintaining comfortable interiors, and displaying good manners.
School bus safety is always at the top of the FLIS priority list. We have more than 60 student passengers and our bus lines cover most areas in Fuzhou. All school bus drivers have been trained and tested by the government in areas of health, driving skills, ideology and morality to eliminate any risk of drunk driving, driving without a license, fatigue driving, overspeeding, overloading, etc. Every school bus has been matched with a duty teacher who will supervise our students, ensuring safety and order.
It is not enough to train only our drivers and teachers -- students matter too! A Traffic Safety Drill for School Buses was jointly hosted by our school and the Government of Gulou District on the 26th of May. All schools in Gulou district who own school buses sent representatives to participate in this activity. This meaningful event helped our students to review the accident management during emergency situations and emphasized the importance of school bus safety.
Parents can check daily reports from school buses' logbook, duty teachers' journal and drivers' memo as necessary. GPS monitoring system is kept by the Department of Education.
Bus Rules:
1. Always listen to the bus driver and teachers on the bus.
2. FLIS buses will follow all traffic rules without exception.
3. Students must remain seated on the bus.
4. No food or drink is allowed to be consumed on the bus.
5. No fighting, littering, or use of profanity on the bus will be allowed.
6. If buses arrive late to school, students need to see the register to obtain a tardy permit.
7. Never throw objects out of the bus.
8. Never put any part of your body out of the bus windows or doors.
9. Students must wear seatbelts while on the bus.
10. Keep bus windows closed.
作为福州市唯一一所国际学校,西湖国际学校在校车出行问题上也秉承高标准,强调安全、舒适、乘车礼仪三者并重。
校车安全问题一直是福州西湖国际学校工作的重中之重。目前学校有六十余名学生搭乘校车,线路覆盖福州市区。驾驶校车的司机们均通过福州市交通部门校车资格认证培训,从身体、年龄、驾驶技术、思想品德方面全面考核,杜绝酒驾、无照驾驶、疲劳驾驶、超速、超员等"马路杀手"隐患;随车还配备跟车老师,全部经过福州市鼓楼区交警大队专业知识培训。她们在车上时刻监督学生,制止危险行为;下车时进行有序引导,保障孩子们的安全。除了在司机、跟车老师方面进行严抓及培训,学校也重视对学生们进行乘车安全教育。
同时,我校校车也备有校车管理日志、教师跟车日志、驾驶员行车日志等。做到了家长与校车、校车与校车的无缝交接。GPS由教育局时时监控。
校车规定:
1、在校车上遵守校车司机及随车教师的安排。
2、福州西湖国际学校将严格遵守国家的交通规则。
3、在校车行驶过程中,学生应坐在自己的座位上。
4、在校车上不得进食或者喝饮料。
5、在校车上不得打闹、乱丢垃圾、或者辱骂脏话。
6、如由路面突发状况,导致校车迟到学校,学生应到出勤老师处获得迟到通行证。
7、不向校车窗外扔垃圾。
8、不将身体的任意部分伸出校车窗/门外。
9、在校车上学生应系好安全带。
10、保持巴士窗户紧闭。