2020-2021学年的开篇如此与众不同。从一场以安全为重的开学云典礼,到迎接新生与老生返校,深深感恩你我得以在身体健康的情况下平安返校,回归往日作息(与此同时,全球多地仍处于隔离中,许多学子无法到校上课);从教师不断开展的升级课程教学,到品月饼、情谊浓浓的中秋节;从奇迹般召开的家长会,到满心欢喜参加期盼已久的世界学者杯与澳大利亚数学思维挑战,在那些舞台上FLIS学子大放异彩惊艳众人……再到温馨的圣诞演出派对,对FLIS的全体教职员工、学子与学生家长而言,这都是一个极为特别的学期。
The 2020-2021 school year began like no other. From an exclusively safe and streamed online Opening Day to the welcoming of new and returning families and the profound need to be thankful for our health, safety, and ability to attend school on a regular basis (when other parts of the world were - and still are - facing lockdowns without open schools). From the teachers' continued implementation of our enhanced curriculum to the lovely holidays of Mid-Autumn Festival filled with moon cakes and reconnection; from the not-so-small miracle of in-person Parent-Teacher Conferences and the joy of a long-promised World Scholars Cup and Australian Mathematics Competition where FLIS students amazed and astounded, to the heartfelt, festive Christmas Party, this was a first semester unlike any other for FLIS staff, students and families!


要在如此耀眼的一学期中仅仅挑出几处闪光点可不容易,但我们还是要回顾以下本学年各学部所取得的成就:
It isn't easy to choose just a few highlights, as there were so many this semester, but we do wish to acknowledge the following areas from ECE, Primary and Secondary Schools:


ECE 幼儿部


▶ 营养均衡的餐点 Good Food
FLIS餐厅出品的食物健康、新鲜而美味,赢得了幼儿部宝宝的好评。
Our ECE students were happily satisfied with the healthy, fresh, and delicious food provided by our school canteen.


▶ 国际早期教育课程 IEYC
随着本学年IEYC课程的确立与开展,每位ECE学子都将拥有一个IEYC选辑,记录他们从小班到大班的学习过程。在IEYC主题学习之旅中,小朋友们前往直升机场体验了一把成为"小小飞行员"的感觉,也经历了不少精彩的"单元切入点"与"单元结课点",比如,孩子们曾运营了一间恐龙博物馆并邀请全校教职员工前来参观。连中学部主管Sam先生也感到钦佩不已,并表示他相当期待这批孩子快快升入中学部呢!
With the launch of the IEYC program this year, each student now has an IEYC portfolio to record their learning journey from Nursery to Kindergarten. Our kindergarteners took an exciting IEYC themed field trip to the helicopter hangar and experienced some excellent exit and entry points such as the Dinosaur Museum in which the whole school staff was invited to participate. Mr. Sam, the Principal of Secondary, was very impressed and said he cannot wait for them to come to secondary school!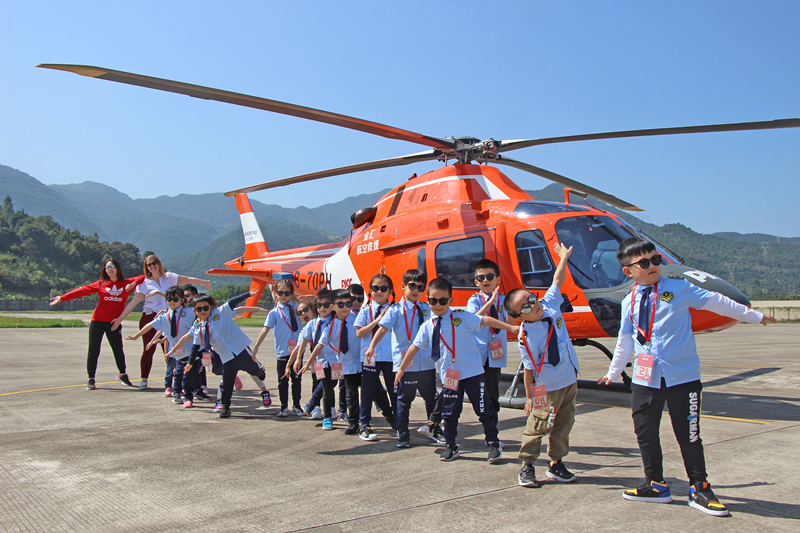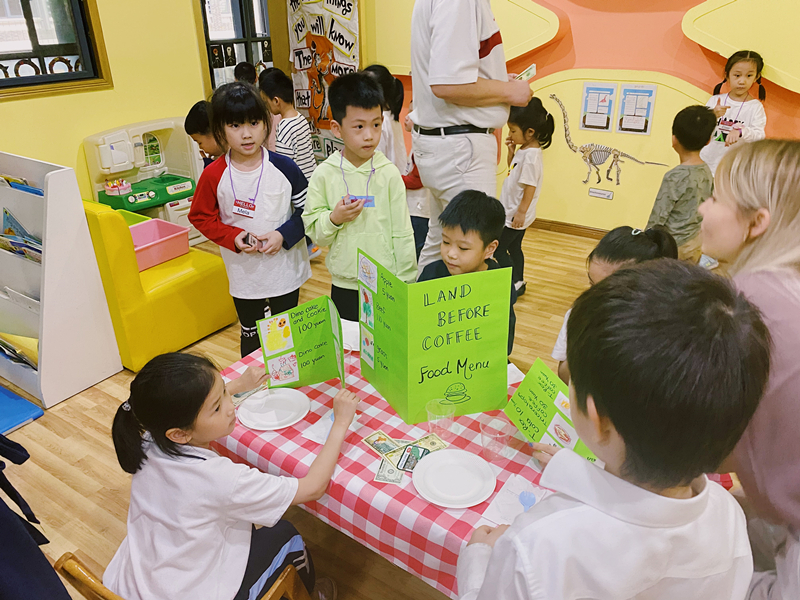 ▶ 专业的教职工们 Dedicated Staff
本学期,ECE教员们在三周内利用夜间及周末时间,一起完成了IEYC培训,以便更好地实施IEYC教学。
This semester the ECE staff completed 40 hours of IEYC training together over a 3-week period, including evenings and weekends, to better deliver the IEYC program.


▶ 开放日活动 School Open House
本学期另一高光时刻为ECE开放日,小朋友与家长一起参与了有趣的学习活动。ECE主管Eddy先生与外方校长Jeanne女士先后发表了关于幼儿发展阶段及如何在家打造积极学习环境的演讲。
Another highlight was the ECE open house and students engaged in fun learning activities with their parents. Presentations were given by school leaders, Mr. Eddy and Ms. Jeanne, about child development and creating a positive learning environment at home.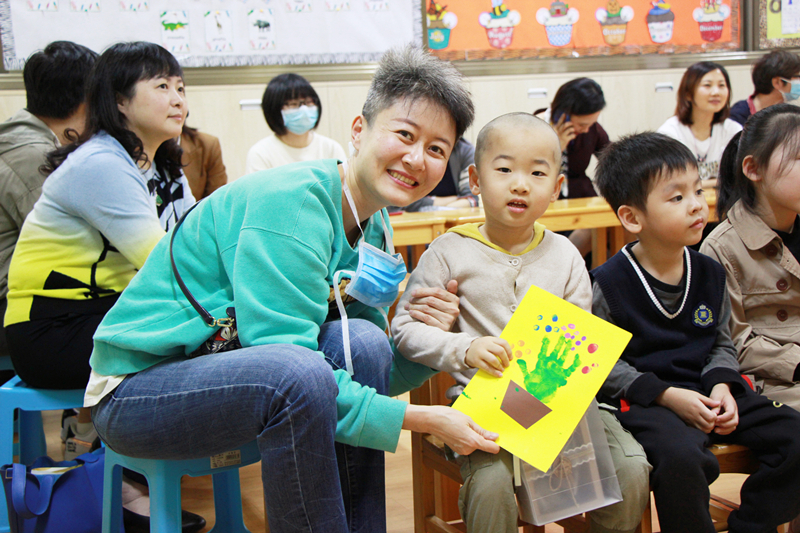 ▶ 圣诞老人的礼物与圣诞演出 Santa and Christmas Performances
演出派对当天上午,圣诞老人由北极远道而来为ECE的小朋友们分发礼物!孩子们兴奋极了,纷纷与圣诞老人合影。这一天将尽之际,圣诞老人告诉ECE主管Eddy先生与ECE中方主管Chloe女士,萌宝们的圣诞演出给他留下了深刻印象,很期待明年再来呢!
Santa visited from the North Pole and gave presents to all the boys and girls in ECE! The students were very excited and got to take photos with Santa. At the end of the day, Santa told Mr. Eddy and Ms. Chloe how impressed he was with the ECE Christmas performances and that he's looking forward to seeing the kids again next year!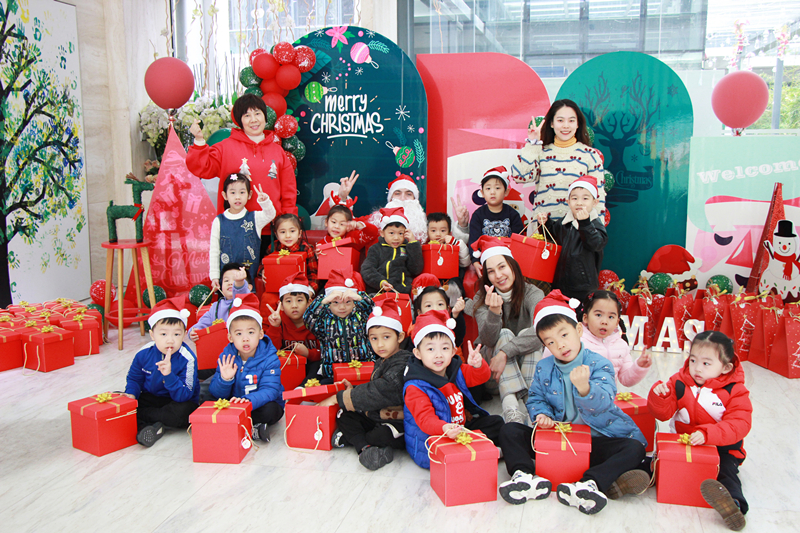 Primary 小学部


▶ 勤奋的英语强化班学子与教师 Hard-Working Pull-Out Students and Teachers
本学年英语强化班每天至少有两门英语课,基于他们的努力,学子们有望在下学期升入主流班。下学期,我们希望这些学生也能够再接再厉!
This year our pull-out teachers and students have at least two English lessons every day and because of this hard work, a large number of students will progress to mainstream English lessons next semester. We hope these determined students keep up the good work and dedication next semester!


▶ 线上学习颇显成效 Improvement of Technological Skills
居家学习期间,学生掌握了多种线上辅助学习的技能,这也使得他们的学科研究更富有成效。现在,我们可以通过线上线下学习更多内容。
Students have built on the skills they learned during the online schooling period which has allowed for more productive student research and projects. Now we can fit more learning content into limited screen time.


▶ 教师的额外付出 Teachers Going the Extra Mile
本学期,小学教师们不仅在额外时间执勤以尽可能保障学生安全,还运用夜间及周末时间完成了历时三周、共计四十小时的IPC专业培训。
Not only have our primary teachers taken on extra supervisory duties to keep students as safe as possible, but this semester they completed 40 hours of IPC professional training together over a 3-week period, including evenings and weekends.


▶ IPC教学的进步 Improvements in the IPC curriculum
我们在IPC课程的许多方面都有进步。如今,每年级都有自己的"单元切入点"与"单元结课点",学生也很享受与IPC主题有关的郊游。每位学子都有自己的IPC档案,贯穿其小学阶段,记录下他们在FLIS学习IPC课程的点点滴滴与每一次进步。
We have made progress in many areas of the IPC. Each grade level now has its own entry and exit point, students enjoyed a number of IPC related field trips, and now students have their own IPC folders which will be brought forward through each of their primary grades at school. Individual student learning and progress will be recorded throughout their IPC journey here at FLIS.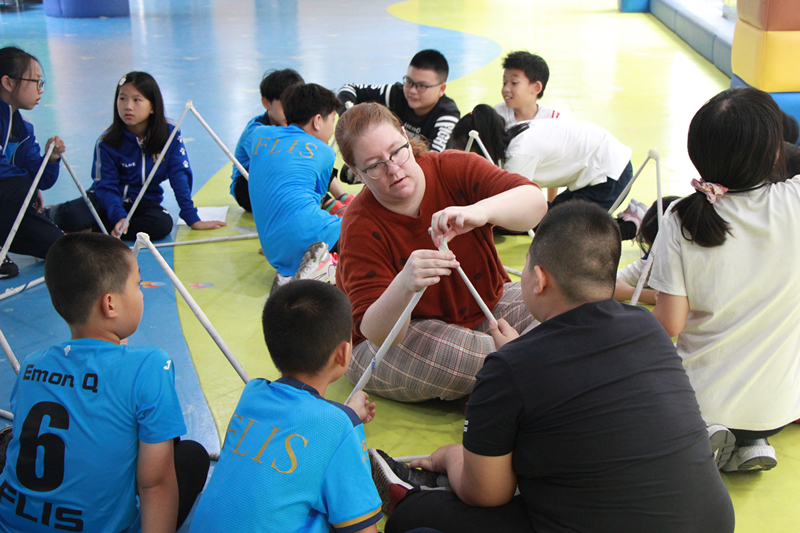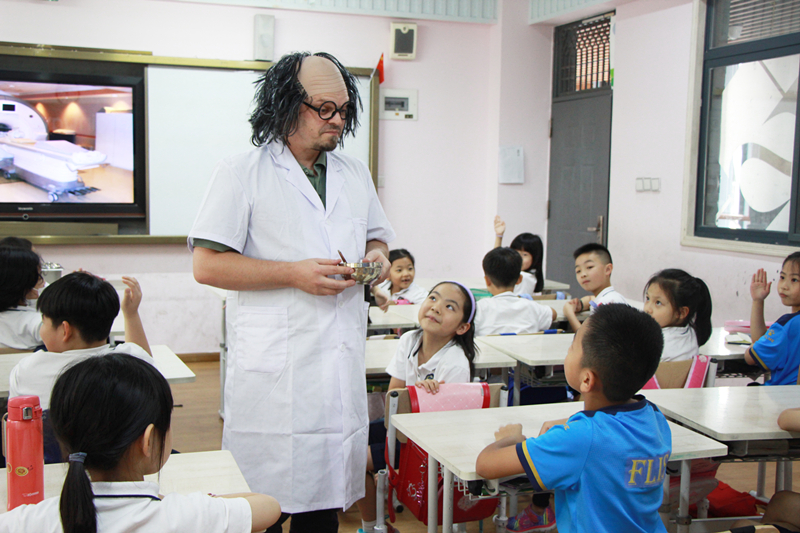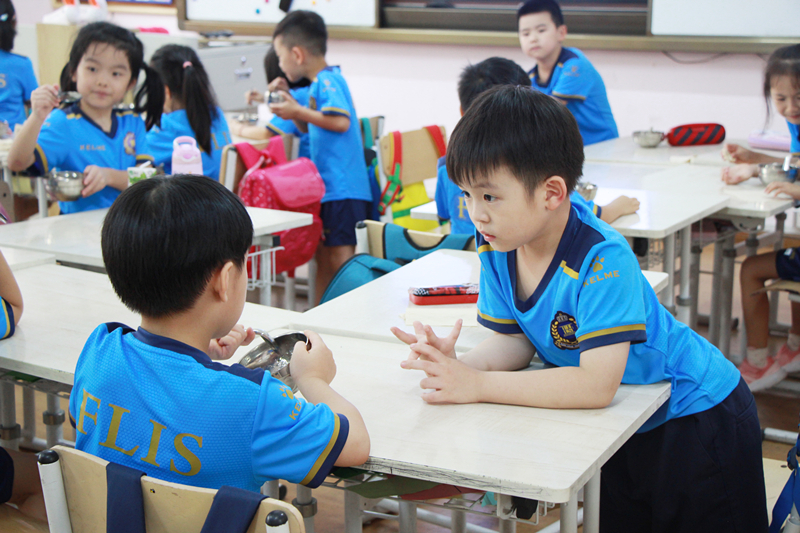 Secondary 中学部


▶ Language Development 语言发展
在FLIS, 我们重视语言能力的持续发展,中学部每个班级的教师都致力于开发与每个学生的语言能力相匹配的课程。例如,每位学科老师都制作了一张关键词汇表,让学生明白学习术语对学业发展的重要性。
At FLIS we value the ongoing development of language ability and in every class in the secondary department our teachers have put the effort into developing their curriculum to reflect the language level of each individual student. For example, each subject teacher has created a list of key unit vocabulary allowing students to understand the importance of learning subject specific language for their academic development.


我们的语言发展不仅仅局限于语言课上,而是融入了整个课程,这对学生的进步有着巨大影响。学生明白整个教学团队朝着同一个目标携手共进:为他们提供最优质的国际教育。成果由学生的学术水平中可见一斑。
The fact that our language development is not just limited to the language classes but integrated across our curriculum has a huge impact on the progress that students make. Our students know that our entire teaching team works together towards the same goal of providing them with the best quality international education. Results of this are reflected in the academic standards reached by our students.


▶ Digital Learning 电子学习
去年隔离期间,为保障授课连贯,我们不得不尝试一些新手段:网课。教师与学子均努力适应这种新型教学/学习方式,显然,我们还有进步空间。
During the lockdown period at the start of the last year we had to try something new in order to continue providing education to our students: online classes. As teachers worked very hard to adapt to the new ways of teaching and students too struggled to adjust, it was clear that there was room for improvement.


正因此,本学年我们大力推进校内电子学习。首先,校内机房进行了彻底更新,软件及硬件令学子得以接触到最先进的中学计算机科学课程。其次,校内网络让学生们可以运用电子设备进行学科研究。此外,我们的学生也学习着成为更自律、更自觉自主的学习者。
As such, this year we have made a big push to improve digital learning in the school. First, the school computer lab was completely updated, with hardware and software to allow students access to the most advanced middle school computer science curricula. Next, our internet connectivity was addressed to allow students to use digital devices as an important tool for research and inquiry. In addition, we have developed our student's self-management skills to use technology to become more independent learners.


这一切的结果是,FLIS学子运用电子科技学习的能力大幅提升,现在,我们的学生有能力面对未来的科技挑战。当然,他们新掌握的信息和通信技术能力会在未来大有帮助。
The result of all of this is that student digital literacy is at an all time high, and our students now have the knowledge and skills to face future tech challenges. Certainly, their newfound ICT abilities will serve them well in the future.


▶ WSC 世界学者杯
过去这一学年,我们经历了无数巨大改变。更换课程、改变教学方式、改变学习方式、调整预期。在快速变幻中,有时,我们很难追踪这一学年取得的每一项成就、庆祝学校取得的所有成功。但在今年最后一个月,我们要秀一秀中学部学子在世界学者杯上取得的佳绩!
The past year has been one of great change. Change of curriculum, change of teaching, change of learning and change of expectations. However, in the last month of the year (at least on a western calendar) we had an opportunity to show off our success, at the World Scholar's Cup!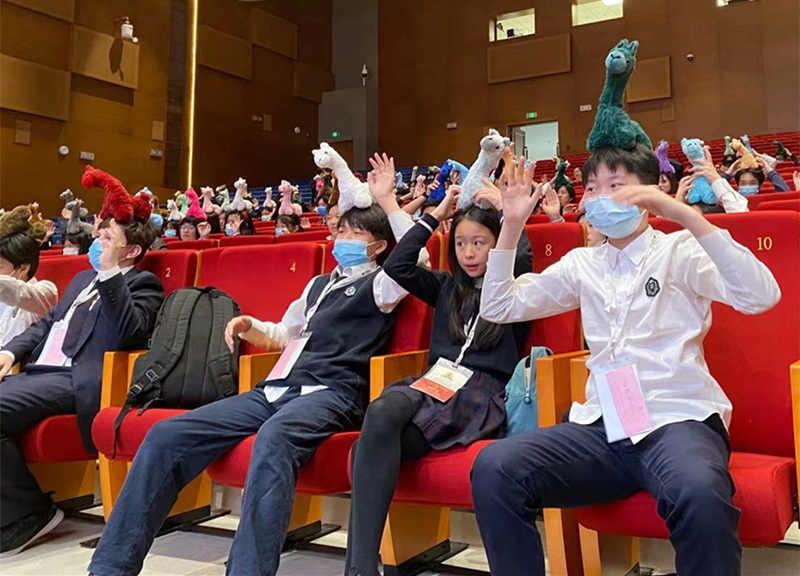 FLIS学子们享受这些比赛,也在所有项目中取得了绝佳成绩,横扫大部分奖项!这次参赛经历不止关乎胜利,也关于学习与成长。每个人怀着极高的期待来到这里,带着对同伴的骄傲离开。我们欢呼着"西湖!西湖!西湖!"回到巴士上,不仅收获了一堆奖牌奖杯,也将对彼此的尊敬与崇拜提升到了新的高度。学校里的变化日新月异,而我们现在比以往更加确信,我们的学生有能力迎接任何挑战,并在这过程中大放异彩!
The students thoroughly enjoyed themselves, excelled in all of the events (Debating, quizzing and academic writing) and beat all the competition! The result of this experience was not just about winning, but also about learning and growing from the event. FLIS students had all come to the event with high hopes and left uplifted by the feeling of pride for their fellow students. With one last chant, "Lakeside! Lakeside! Lakeside!" we returned carrying not just medals and trophies but also a new level of respect and admiration for each other. Our students demonstrated that they have the strength and spirit to face any challenge, and not just survive, but thrive!


感谢我们的英语老师和科学老师Matt先生与Mosh女士协助培训学生参加比赛。
For this great achievement, credit should go to our English and Science teachers Mr. Matt and Ms. Mosh, who helped train the students for the competition.


▶ GAC课程
对中学部而言,本学年另一重大影响来自新推出的GAC-ACT项目。九月起,我们的高中生开始进入这一新项目三阶段学习的最初阶段。结课之际,学生将得到一份国际认证、亦获多所世界大学认可的证书。
One thing that has had a big impact on secondary school is our new Global Assessment Certification program from the American ACT organization. Since September our senior students have begun the first of 3 levels of this new program. Upon completion in full, the students will receive an internationally accredited certificate that is recognized by universities across the world.


学习这一课程的全体同学都刚刚通过了GAC最初阶段的学习,开始进入下一阶段。他们所掌握的技能将有助于之后的海外学习及大学学习。这些学生在校也承担了更多责任,在学院中担任领袖、在校园活动中发挥重要作用。
The students that have taken the course all just passed the first level of the GAC and have started the next level. The skills they learn will help them in the next stage of their studies abroad and in college. These students have also been taking on more responsibility in the school, acting as house leaders, and playing important roles in school events.


祝福高年级生,希望他们在即将到来的新学期均有上佳表现,也期待GAC-ACT项目取得好的结果。
We wish our seniors all the best in the coming semester and look forward to the results of this new program.


▶ IB课程
本学年令人尤为激动的是,我们成功成为了IB候选学校。进入这一阶段的过程漫长而艰巨,尤其考虑到我们在2020年面临的额外挑战。教师们肩负重重任务,包括长时间的专业培训、课程开发等等,为了在课堂上实施新的教学方式,他们还要付出额外努力。
This year was especially exciting with the news of our successful application to become an IB candidate school. The process to get to this stage has been a long and demanding one, especially with the extra challenges we faced in 2020. A huge amount of effort has been given by teachers, including many hours of professional development, curriculum development, and the additional labor of implementing new ways of delivering lessons into their everyday classes.


但毫无疑问,所有的努力都得到了回报,经过大家的辛勤工作,专门针对每个学生的需求而制定的课程诞生了。我们并非简单地将国外的系统移植到中国。相反,我们使用世界各地,包括本地的最佳实践范例,并创造一些新的东西。学生不仅会学到知识,而且会学到他们发展所需的技能,以及帮助他们在不断变化的世界中成为下一代领导者和企业家的特质。
But there should be no doubt that all the effort has paid off; the result of this diligent work is a curriculum specifically tailored towards the needs of each student. We are not just taking a foreign system and transplanting it to China. Instead we are using the best examples of practices around the world, including locally, and creating something new. Students are taught not only the knowledge, but the skills that they need to thrive along with the attributes that will help them to become the next generation of leaders and entrepreneurs in an ever-changing world.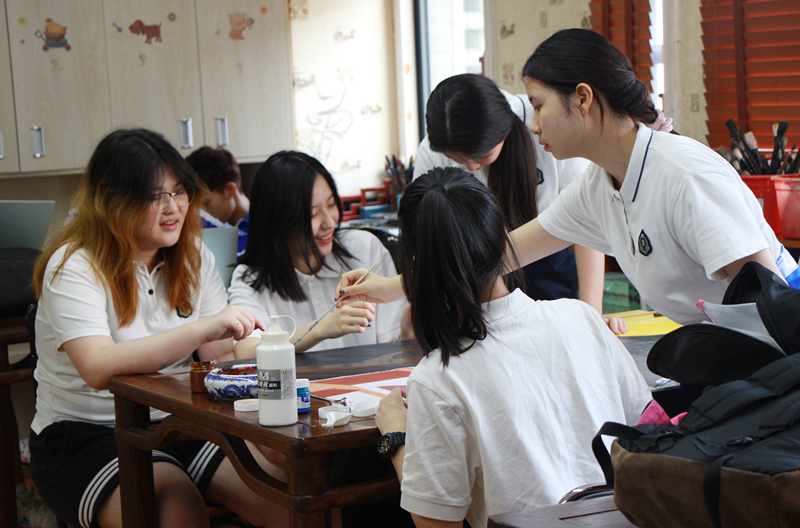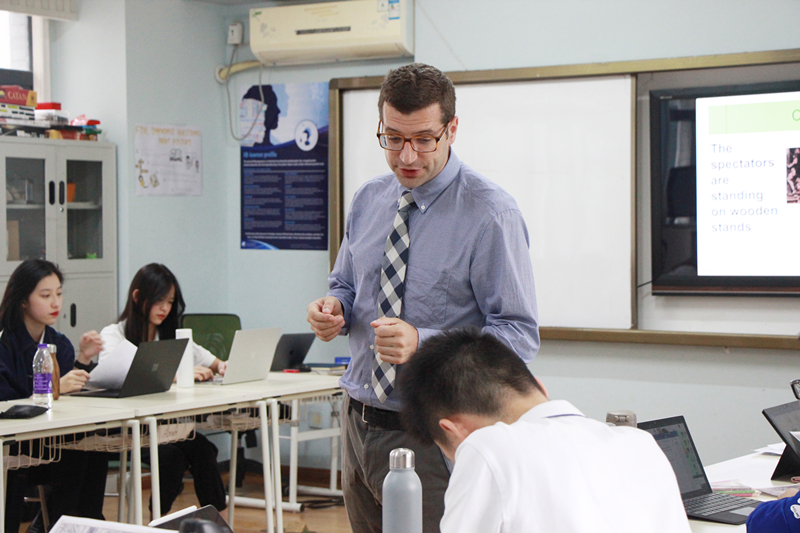 本学期即将结束。新学期正是迎接挑战、稳步成长的好时机,要意识到我们有能力、有精力设定计划,想象最好的情况,并设定必要的工作目标,优化我们的应变能力。我们可以多花些时间关心自己、关怀他人,培养同情心。FLIS团队祝愿大家在2021年及以后的日子里富足、健康、快乐,笑口常开!感谢您成为我们亲爱的FLIS大家庭的一员。祝您身体健康!
As the first semester comes to an end, the start of a new semester is a time of challenge and growth, to realize we have the power to spend our energy setting intentions, visualizing the best-case scenario, and setting goals for the work necessary to optimize our resilience. We can exercise compassion for ourselves and others by giving our time and attention to each other. The FLIS team wishes everyone blessings of abundance, vibrant health, joy, and laughter in 2021 and beyond. Thank you for being a part of our beloved FLIS community. Be well!